INTRODUCTION TO GCL
Generali China Life Insurance Co., Ltd (hereinafter referred to as GCL),founded in 2002 as a joint-venture between China National Petroleum Corporation (hereinafter referred to as CNPC) and Assicurazioni Generali S.p.A. (Generali), was the first Sino-foreign joint-ventured insurer approved by the Chinese Government for operation after China joined the World Trade Organization (WTO). In September 2016, the Chinese shareholder China National Petroleum Corporation ("CNPC") transferred its 50% equity interest in Generali China Life Insurance Co., Ltd. ("GCL") to CNPC Capital Company Limited for free. At present, the registered capital of GCL is 3.7 billion RMB and its total assets are more than 70 billion RMB.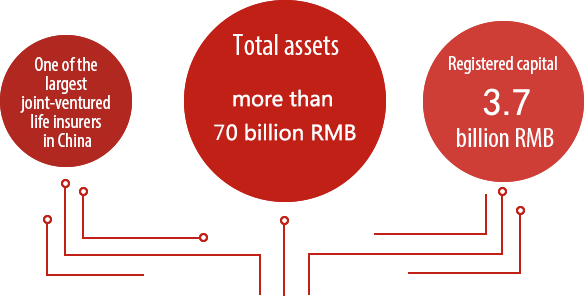 Generali is one of the largest global insurance and asset management providers. Established in 1831, it is present in 50 countries in the world, with a total premium income of more than € 70.7 billion in 2020 With nearly 72,000 employees serving 65.9 million customers, the Group has a leading position in Europe and a growing presence in Asia and Latin America. Generali's ambition is to be the life-time partner to its customers, offering innovative and personalized solutions thanks to an unmatched distribution network. Generali ranked 66th on Fortune 500 that published by Fortune magazine in 2020.
In September 2016, the Chinese shareholder China National Petroleum Corporation ("CNPC") transferred its 50% equity interest in Generali China Life Insurance Co., Ltd. ("GCL") to CNPC Capital Company Limited for free.
CNPC Capital Company Limited specializes in financial business management, and serves as CNPC's platform for financial business integration, financial equity investment, financial asset management and supervision, and financial business risk control. It has invested in Bank of Kunlun Co., Ltd., GCL and other eight financial enterprises by (majority) shareholding, managed these enterprises with a standard and sound corporate governance to improve industry-finance coordination, cooperation between various financial sources and achieve resources sharing.
GCL combines internationally advanced insurance knowledge and experience with Chinese market, provides tailor-made diverse insurance products to meet different needs of clients, including life insurance, accident insurance, health insurance, investment insurance and group employee benefits program. These products provide wide protection and all-round benefits with flexible premium options and free combinations, and have formed the product series of GCL with clear characteristics and innovative advantages.
GCL believes that clients are priority and provides all-round, professional and high-quality services for clients. The efficiency and quality of claim service of GCL have long been leading the insurance industry. Simultaneously GCL advocates differentiated services and keeps innovating in service contents. The special services with GCL characteristics like global emergency assistance, direct-billing medical service and so on enable clients to enjoy the privileged and superior.
Headquartered in Beijing, at present GCL has 15 branches in Beijing, Shanghai, Guangdong, Jiangsu, Shenzhen, Liaoning, Sichuan, Shanxi, Shandong, Heilongjiang, Hubei, Henan, Zhejiang, Fujian and Chongqing province,holding an asset management company.
Since its founding, GCL has always adhered to integrity, professionalism, compliance management, and achieved sustained and stable development. GCL has built a diversified business development platform, with all sales channels have kept healthy, rapid and sustainable development. The Agency Channel, well known for its efforts in cultivating knowledgeable and professional individual agents in the industry, has won the recognition from the clients. The Bancassurance Channel has maintained close and sound cooperation with major banks in China. The Group Business Channel has been serving plenty of global top 500 enterprises in China as well as many well-known Chinese enterprises and institutions and its business scale and quality have long been No. 1 among foreign and joint-ventured insurers. The General Agency Channel, relying on its strong support platforms and advanced service concepts, has established good cooperation with many agents of large-scale group companies and its business developed rapidly. The Telemarketing and E-commerce Channel with innovative products and advanced IT Technology is providing convenient and reliable insurance services for clients. In addition, in order to provide better insurance services for Chinese shareholder and related parties, GCL has set up CNPC business channel composed of high-quality employees to provide market-oriented group medical insurance services for shareholders and affiliated clients, and pension services for retired employees. Its specialized products and high quality services have formed a good reputation and influence in the internal market of CNPC.
Backed by Generali's insurance experience and the strength of CNPC and Generali, GCL aim to make itself a first-class insurer in China. Based on its business philosophy of "honesty, customer-first, professionalism and innovation", with "self-discipline, initiative, learning" as its code of conduct, GCL is devoted to create maximum value for its clients, shareholders, agents, employees and the society.